No, that isn't a typo. Reinbeer is your everyday, boring beer transformed into festive, jolly beer!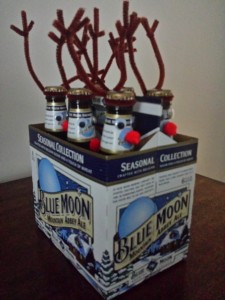 Have you finished your Christmas shopping yet? If you haven't, then this post is for you. This gift is cheap, creative, and sure to wow your recipient as well as all party guests lucky enough to witness the giving of the gift. It's the perfect gift for your best friend, your weird uncle, or the "one-who-has-it-all." Make it a group gift by gathering your 6 closest friends and have them divide the spoils among themselves. I daresay this gift is even appropriate for any winter birthday or anniversary.
How to Make Reinbeer
Supplies (If you're a teacher you probably already have most of this stuff! Score!):
6 pack of bottled beer–try something seasonal. Making this gift for your kids? Try root beer instead!
9 Brown pipe cleaners
6 Red pompoms
12 Googly eyes
Strong adhesive (I used Krazy Glue but think that a hot glue gun would have worked better.)
The Process
If you bought cold beer, I suggest letting it warm up some. I had a difficult time adhering pieces to the cold glass. Crack open a cold one for yourself while you wait. Make sure your beer is from a different case. The recipient will be less impressed with each bottle that's missing from the case.
Center a pipe cleaner around the neck of the bottle and twist to secure it. (x6)
Cut the remaining pipe cleaners into pieces about 1.5 inches long.
Wrap the small pipe cleaner pieces around the longer pipe cleaners and bend them up slightly.
Before you glue the red pompoms and googly eyes onto the bottles, take note of how high the box comes up on the bottles. I forgot to do this for mine and will forever regret it!
Glue the eyes on each bottle towards the top of the bottle. (x6)
Glue the red pompoms on an appropriate distance from the eyes. (x6)
Place all bottles back in the case and place in fridge until it's time to give it away.
The lucky recipient of this Reinbeer remarked, "I didn't know what to expect when I was told I had a gift, but I couldn't help but smile and laugh when I received my Reinbeer."
Make 'em laugh this year with this unique and thoughtful gift!
Happy Christmas Eve Eve!