I'm on day two of my latest challenge — Stop.Challenge.Choose. by Take Shape For Life fueled by Medifast.  It's a 12 week health transformation challenge. So, with some quick math we can see that I'm already 1/42 of the way done! And I've got to say it's going pretty well. I'm following TSFL's "5&1" meal plan wherein I eat 5 meal replacements a day and 1 meal that's "Lean & Green" (lean meat and some green veggies). TSFL proffers a million (70) meal replacements to choose from and like a kid in a candy store I want them all!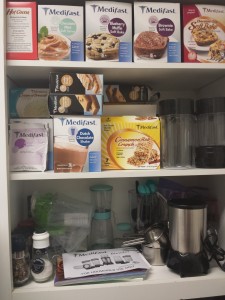 I actually expedited my next TSFL shipment so that I can have even more options than what my cabinet currently boasts. And today while I was enjoying my afternoon healthy brownie I had the realization that I can even mix and match my products. I could feasibly have half of a brownie and half of a serving of chocolate mint soft serve. And that would be perfectly fine! Does "dieting" get any better than that?
It does.
A second fantastic thing happened today…My dear friend, Stephanie, signed up to do both the challenge and the 5&1 plan with me! This is unprecedented. One of my other dear friends, Katy, has done challenges with me in the past (AdvoCare 24 Day Challenge ring a bell?) but she is also my trainer and, as you can imagine, very fit. I'm not trying to say that Katy's camaraderie isn't pivotal to my growth as a person and my loss in pounds–because it most certainly is. Working out with her or just hanging out with her is usually the highlight of my day. However, Stephanie and I have similar weight loss goals and as such I'm so grateful to share this journey with someone who is on my level.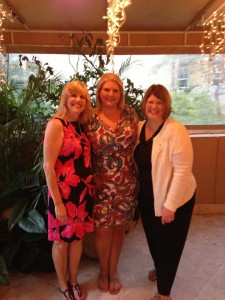 Stephanie (pictured on the right), the wife of a colleague, and I met 4 fateful years ago at an annual business meeting/trip for my company. We usually only see each other once a year. This makes us both very sad and we spend half of our time together lamenting that we don't live closer to each other. If I lived there or she here we would workout together, have wine nights together, join book clubs together, and so on and so forth. We would basically be inseparable if we lived in the same city, state, 100 square miles, or at least timezone.
When we saw each other in December we schemed of ways to reunite before the next annual company trip. The winning idea was that we would each train to run a 5k and then choose a 5k to run together in her city, my city, or some random city! And if we need to meet once or 5 times during  training for a practice run together then so be it. I'm very proud of us for thinking of such a healthy plan. I'm surprised we didn't decide to just meet up in Vegas. Maybe there's a 5k in Vegas? Hmm…
I'm hoping to rope even more friends into the Stop.Challenge.Choose. Challenge, so watch out for posts entitled, "Three's Company" and "The More The Merrier." And if you're even remotely intrigued by this challenge or the notion of eating brownies for breakfast, contact Katy or me for more information.