Yesterday morning I woke up with an inclination to drink. I awoke slowly from my slumber with visions of mimosas, peach bellinis, and, yes, even a champagne fountain (the "Be Our Guest" scene from Beauty and the Beast comes to mind). As an aside, Belle is my favorite Disney Princess and I envy her dress. I don't know if yellow is my color or if I could resist the town hunk, Gaston, long enough to fall in love with a beast-prince who was my captor, but I'd love a chance to try. Like Belle, I am an avid reader but so far the rest of my life hasn't played out like hers. I'm pretty sure I am not the sole love interest of Savannah's Gaston, but if I am mistaken please do correct me.
Since I don't have household objects coming to life to serve me drinks and other goodies, it was relatively easy to forget about my champagne fountain breakfast. I instead proceeded with my usual morning ritual of feeding the yapping Colby and Emma and spending an excessive amount of time on Facebook to see what had happened to all my fabo friends since I had last checked (4 am). Answer? Nothing of consequence.
After getting ready to see one of my favorite boys in Savannah, my hairstylist Michael at JW Salon, I grabbed my favorite easy to eat while driving breakfast and hit the road. I'm a strong believer of eating things that fit in a cup holder – like when McDonalds used to make those salad shakers. It was impossible to evenly distribute the salad dressing but I commend them for trying to mobilize what has to be the most impossible food to eat while driving. Two of my favorite cup holder foods are Moe's burritos and yogurt. You'll recall that we're still in breakfast mode, so this post is about yogurt. Fully expect a post on burritos in the future, and perhaps even a new section of the blog devoted solely to cup holder foods.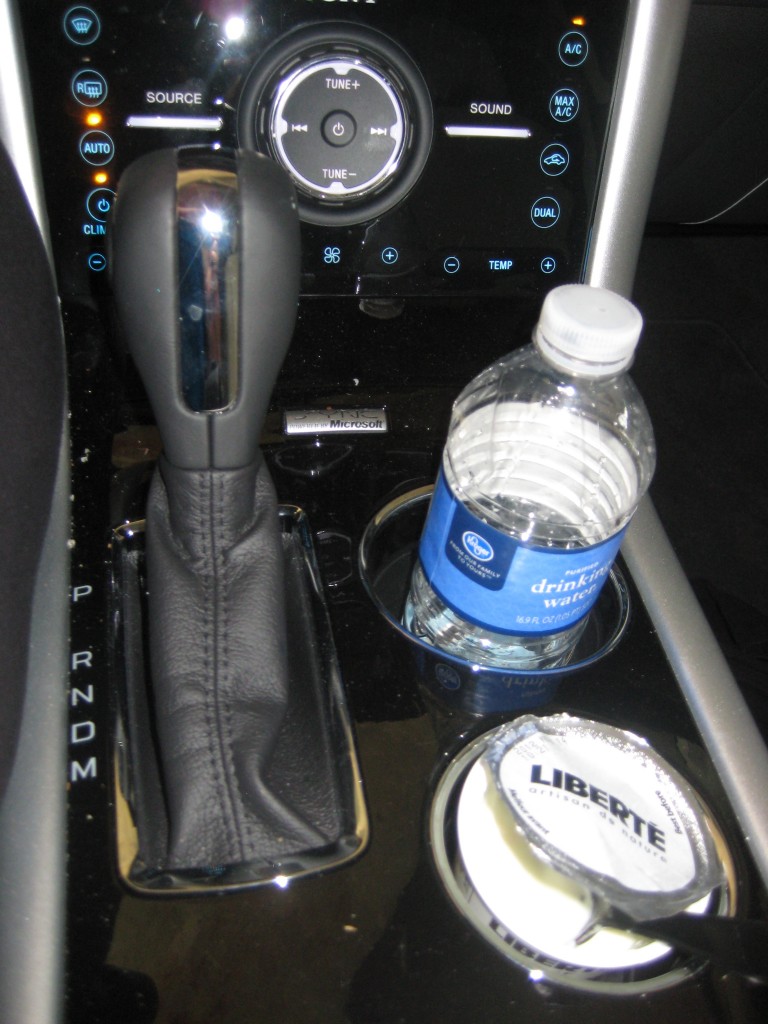 As a general rule I don't really love breakfast foods – except bacon. I'm also a bit of a yogurt snob. I'm not going to get excited about a few ounces of barely palatable funky gunky stuff just because it's only 80 calories. Great… that keeps me full for like 15 minutes.  Not worth it. But there are some yogurts out there that taste AMAZING and have a lot of protein so you are satiated longer. My recent favorite brand was La Creme but sadly my local Publix no longer carries it

. I decided to give LIBERTE a shot, since the name was in all caps and therefore intriguing. I didn't think to check the nutrition label before loading my cart with coconut, apple crumble, and blackberry varieties of LIBERTE.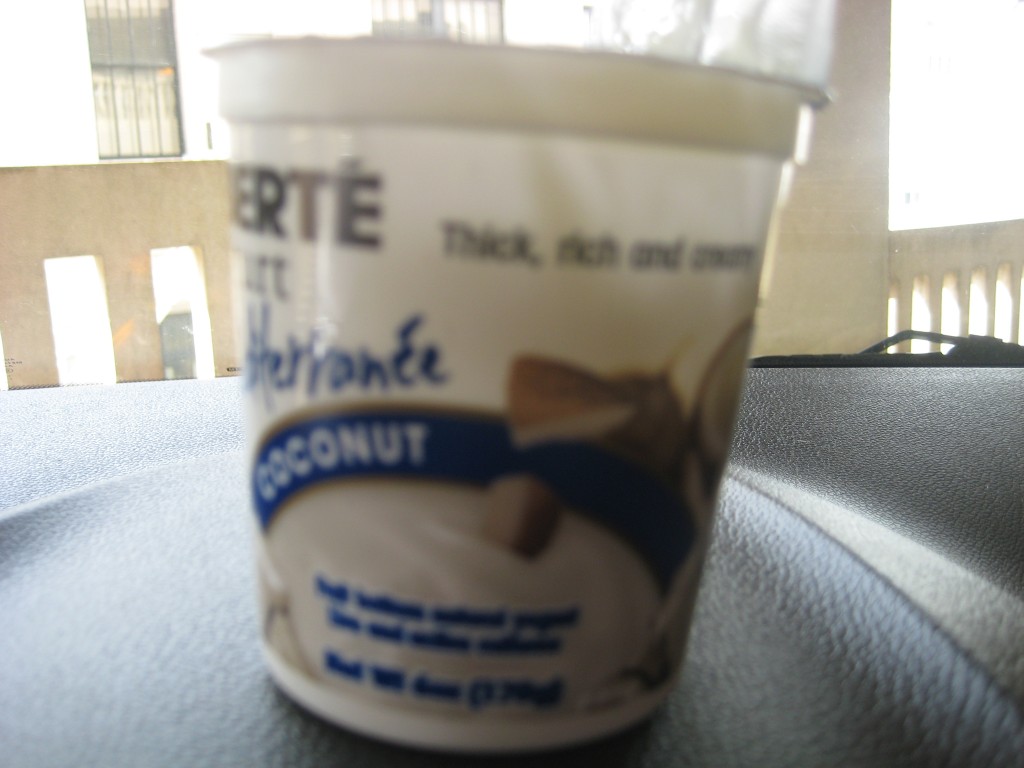 Thick, rich and creamy is the understatement of the century when it comes to describing this tropical heaven in a cup. I would dare say this was even better than a champagne breakfast – this was the Pina Colada of yogurts. Mix a little rum in and you would be mentally transported to a turquoise water and white sanded beach where all your dreams come true. Sans rum it was still phenomenal. If you are a frequent reader of my infrequent posts, you will recall that I love ice cream. Upon first bite I thought to myself, "I could give up ice cream for this." In fact, I could give up everything.  Okay, not everything. But I definitely started considering an all yogurt diet.
Then I turned the yogurt around to find out exactly how healthy I was and gasped:
Serving Size: 6 oz. Calories 280 Fat 14 g Saturated fat 10 g Total Carb 25 g Fiber 0 g Sugars 20 g Protein 6 g   
To be fair, coconut has a lot of saturated fat, but saturated fat isn't the bad guy we make it out to be. I like this post explaining the misconceptions and benefits. My nutritionist encourages me to use coconut butter and coconut oil in my cooking because it's an easy way to get in your healthy fats. (My favorite is to use it with scrambling farm fresh eggs. Delish.)
What shocked me was the complete lack of fiber and the high sugar content. I should have expected as much, but I can be as naive about yogurt as I am about men. Though a nice treat, this coconut yogurt delight could not become my go-to yogurt or daily meal replacement. (Sorry yogurt, it's not me, it's you.)
Moral: Read your label! And as importantly, know what it means. Educate yourself on calories, different kinds of fats, and how much protein and fiber you need to keep you satisfied until your next meal. (I will try to do more of that on here, because clearly I need a refresher course, too.) Though this yogurt pales in comparison (haha) to other yogurts in regards to reasonable calories, it kept me full all through my hair appointment and some light afternoon shopping until I had time to enjoy a kind of healthy lunch.
If you have time: Find something you love and make a healthier homemade version of it. My aforementioned nutritionist, Cat, is amazing at doing this. I think the homemade, healthier version would look something like this:
Organic yogurt (vanilla flavored if you insist, which I do) Unsweetened coconut flakes (less sugar, more fiber) Sliced almonds (more protein) Pineapple (If you want the full Pina Colada effect)  
This afternoon I am enjoying LIBERTE's apple crumble yogurt, but I read the label first so at least I know what I'm getting into!