Last Sunday I was running around town (and by running I of course mean driving) and I got a craving for ice cream – particularly from Cold Stone Creamery. I'm always one for indulgences and this weakness was only augmented by my circumstances:
(1) I just turned 25 on Friday and therefore it was still my birthday weekend
(2) I had recently returned from a trip to India where in sharp contrast to most of my vacations I did not eat and imbibe to excess
I should remind you that I never need to justify my actions to myself, so these justifications are purely for your benefit.
I contemplated whether I would get a Like It™ – 5 oz.  or Love It™ – 8 oz.   Gotta Have It™ –  12 oz.was out of the question. Nothing screams ice cream addict more than going up to counter and using the phrase "gotta have it." Then I glanced to left and realized that you could get the ice cream to go in sizes called Mine, Ours, and Everybody's.
I was sure that once I had a few bites of ice cream goodness my craving would be satisfied and that I would happily conserve the rest for future enjoyment in moderation.The Mine was definitely bigger than the Love It™ and possibly even bigger than the Gotta Have It™.  But I was going to save most of it for later and the to go containers came with lids. At the time it seemed like the most responsible choice.
I ordered a Mine of mint ice cream with kit kat and sprinkle mix-ins, but not before sampling the Oreo creme filling ice cream and holding on to the little sample spoon.
With my Mine ice cream nestled safely in my drink holder, I started the 20 minute drive home. I didn't make it out of the parking lot before I started in on the ice cream. I was using the super tiny sample spoon so how much damage could be done? I've always heard when you're trying to eat less, make sure you use small plates and bowls. But I had never heard anything regarding the benefits of reduced size flatware. Was I onto something? Would miniature ice cream spoons and crab forks become the new standard? A diet revolution was about to begin and it would begin with me!
10 minutes later…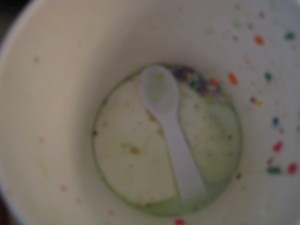 The moral of this story is Know Thyself. Know your weaknesses, know your strengths and use them to your advantage. Also know that something can be a weakness or a strength depending on how you use it.
For example, I tend to be surprisingly "out of sight, out of mind" when it comes to food. A few weeks ago Mom made some awesome banana bread and I took a piece home to savor that night. I totally forgot about it and it wasn't until the treat was moldy and inedible that I rediscovered it at the bottom of my Vera Bradley tote. When I made this realization I started storing my fruits and veggies in wicker baskets on the shelf of my fridge instead of in the opaque drawers where they would inevitably rot. This simple organization change revolutionized my eating habits.
Last Sunday I bamboozled myself into thinking I could do something that for me was impossible – have delicious ice cream in my line of vision and not consume all of it.
What are your food triggers? Emotions? Smells? Feel free to share below and let's brainstorm how to handle them!