An essential part of The 24 Day Challenge is eating an appropriate amount of protein (at least 10 grams at each lunch and dinner) and limiting carbs (max of 30 grams at lunch and dinner). For dinner they even suggest that you eat only a lean meat and vegetables (starches don't count!). I'm a bit meat and potatoes (or spaghetti and meatballs) when it comes to my dinners, so this is a tough one for me. Yesterday I eased into the plan with a dinner of Oven-Fried Chicken (don't worry…I didn't eat the skin!), Broccoli, and Quinoa. Though I tried to limit my Quinoa intake, I probably went above the 30 gram carb limit for this meal.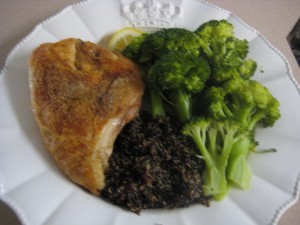 Tonight's dinner, however, totally blows last night's dinner out of the water. (That might be funnier if I cooked fish-which you will soon learn that I did not). Using my favorite new internet toy, Pinterest, I discovered two new recipes that revolutionized vegetables as I know them. I've been pinning pretty food pictures (both healthy and unhealthy) for literally days (I've only had a Pinterest account for like two weeks). However, I never actually followed the links in the pictures to read the blogs or websites behind them. C'mon, pin and double-click?? I don't have that much free time. This faux pas was made public when my bestie, Leslie, thanked me for pinning someone's weight loss blog and I had no idea what she which pin she was referencing. She suggested that I read it (which I still haven't…write my own blog and read someone else's??).
This is all to emphasize the magnitude of the Pinterest Progress (just coined that) made tonight when I searched for a Brussel Sprouts recipe and a Carrots recipe.  I took it beyond the Pin, beyond the blog, and, bam, into the kitchen.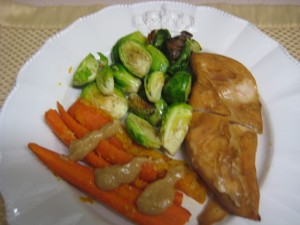 Tonight I made my family's traditional Honey-mustard Chicken. Super easy marinade-soy sauce, honey, and…wait for it…mustard!  It tastes best (and looks best) grilled, but I live in a condo so the oven is my go-to for any and all meat-cooking. Usually I would pair this with roasted potatoes and carrots. This is also delicious and simple to make. Just chop up some potatoes and carrots (I like hot-dog-style slicing the most) and throw in a bit of butter, garlic, and salt & pepper.
However, this is Day 2 of my 24 Day Challenge, so in addition to limiting my carb intake I'm also trying new things. After finding the brussel sprouts recipe I knew I wanted to find something new and different to liven up the carrots. I didn't want to just roast both vegetables. That would be boring, and would make me miss potatoes more than I already do. (I saw a french fry on the ground today and kind of had a moment. Not like a gross "I want to eat that even though it's on the ground" moment, but I definitely paused and reflected on how delicious Chick-fil-a french fries are and how much I am not supposed to be eating them right now).
Additionally, I'm not that crazy about carrots and kind of just tolerate them because they look pretty when alternated with the potatoes in the pan. A splash of color, if you will. However, the new carrot recipe was a total win. It had a tangy orange-ginger marinade with a miso dressing that temporarily satisfied my need for something new as well as my infinite craving for Asian food. I felt totally boss for actually cooking something that required the zest of an orange (la de da…how fancy) and called for Coconut Oil (only my favorite cooking oil ever).
Though a bit more complex than my usual weeknight meal, I had so much fun with the new recipes and it encouraged me to appreciate carrots for more than just the color they add to life.