I never wanted to be one of those bloggers who just comes and goes as she pleases, caring not who she leaves forlorn in her absence. I also never wanted to be one of those bloggers who reappears and either (1) acts like she wasn't gone for 3 months or (2) apologizes profusely only to transgress again. I guess I just want to be open and honest with you and say "my bad." I know it will take time for you to trust me again. And if you wanna read other blogs, that's okay. It is my hope that we can work through this and be stronger for it.
The past few months have been a whirlwind at work and my once valiant efforts to become a healthier Carolyn more or less came to a halt. Life on the road can be rough on the waist. There are plenty of people who travel for a living and maintain their figure. They probably hit the hotel gym before work and order fish and vegetables at dinner. In all my weeks of business travel I've used a hotel gym once. My eating habits were even worse.
Breakfast at client sites often consisted of Krispy Kreme donuts-hot and fresh. The once tantalizing smell now has a nauseating effect after consuming a few dozen over two weeks. Dinners were equally indulgent whether with coworkers or alone. Many nights I had take out, which I can sincerely say I'm tired of now. You can only endure so many meals in a row with flimsy plastic forks that break if you grip them too tightly. All I wanted by the end of my trip was to eat a meal with real silverware.
So even though it's Friday night and my instinct is to call for pizza, I'm cooking chicken.
You may have seen the recipe for Perfect Chicken on Pinterest. As with most foods, I very much enjoy eating chicken. Unfortunately I've never been that great at cooking it. The majority of my attempts at homemade chicken result in a burnt outside-raw inside specialty with salmonella for dessert.
I have found that the safest way to cook chicken is to boil it-preferably for hours. Shockingly this leaves something to be desired in the flavor department. I was psyched to see the Perfect Chicken recipe because if it's PERFECT then presumably a caveman can do it. It's fast and uses minimal ingredients. And my favorite thing about it is that you can either eat it as is or use it as a starting point for whatever dish you want to make (like shredded chicken for taco salad…yummm).
Perfect Chicken
(recipe straight from the famous "The Recipe Crayon Box" blog)
2-4 boneless chicken breasts with or without rib meat
1/2 t. salt
1/2 t. pepper
1/2 t. garlic powder
1/2 t. onion powder
1/2 t. paprika
2-3 T. olive oil
Mix salt, pepper, garlic powder, onion powder, and paprika in a small bowl (I use my old 1/4 cup). Coat the chicken breasts in the seasoning, rubbing in to coat. Pour olive oil in the bottom of a Dutch oven, and heat to med-high. When nice and hot, add chicken to the pan (in batches if necessary). Cook 2-3 min per side. If any chicken has been removed, add it back to the Dutch oven. Place uncovered Dutch oven in a 350 degree F oven for 25 minutes or until juices run clear. Let sit on a plate 5-10 minutes before cutting, shredding, or eating.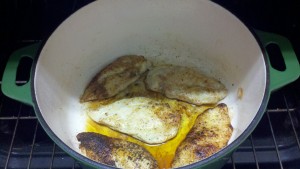 This is what my chicken looked like after I cooked it on the stove and mid-way through the oven process. The golden brown part only happens on the stove so you may want to give it more time than I did.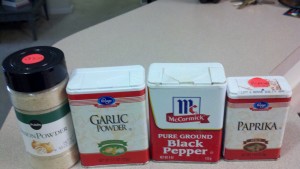 I love that this recipe calls for common spices. I didn't have to go to the store just to pick up some obscure and unpronounceable item.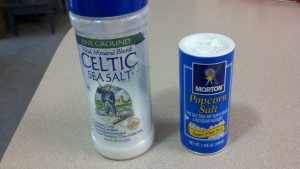 I usually use Celtic Sea Salt but for stuff like this I think it's better to use something with smaller granules like regular table salt (or popcorn salt). The sea salt is "fine ground," but between you and me, it ain't that fine. I've found that good ol' Mortons table salt gives the meat a more even flavor and you're less likely to end up with a mouthful of super salty chicken.
The end result is a flavorful and juicy chicken that you can eat with confidence knowing that you will probably not get sick as you might from less-than-perfect chicken.