For weeks I've been eying this recipe on Pinterest. The recipe from SugarLaws (pretty much my blog idol) calls for mayo and cheese. Yum! But could I really make a healthy meal with two ingredients that are so prominent on most diets' DNE (Do Not Eat) Lists? I could certainly try.
Here's the original recipe, straight from the source:
Artichoke Crusted Chicken Recipe
INGREDIENTS
2 six-ounce chicken breasts, pounded thin
2 tbsp olive oil
1/4 cup mayonnaise
1/4 cup artichoke hearts, drained and chopped (I used canned artichoke hearts, but frozen ones that have been thawed would be fine)
1/3 cup grated white cheddar cheese
Salt
Pepper
DIRECTIONS
Salt and pepper the chicken and then sauté each chicken breast in 1 tbsp olive oil on medium-high heat, for about 8-10 minutes, flipping once, or until the juices run clear when pierced with a fork.  Set aside.
Mix together the mayonnaise, artichoke hearts and cheddar cheese until evenly distributed.  Spread the mixture over the sauteed chicken breasts, and then broil at 400 degrees for about 3 minutes.  Do not take your eyes off them — broiling can lead to burning faster than you can imagine.  When the cheese is melted and bubbling and the tops are golden, remove and serve.
Serves 2.
*    *    *
I pretty much followed this except for that I did 1/8 cup of light mayo, a whole can of artichoke hearts, and I ended up slicing my chicken because it was still quite raw after cooking on the stove.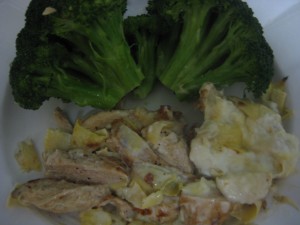 I served mine with broccoli because it's one of my favorite super nutritious vegetables and it's delicious. I added lemon and a sprinkle of salt to the broccoli. Another good veggie side would be wilted spinach. That would make the meal like a healthier version of spinach and artichoke dip (one of my favorite foods ever).
I'm eager to experiment with different kinds of cheese and perhaps even entirely omitting the mayonnaise.
Let me know if you try a variation of the recipe!